More About "Saying the Names – Malcolm Guite"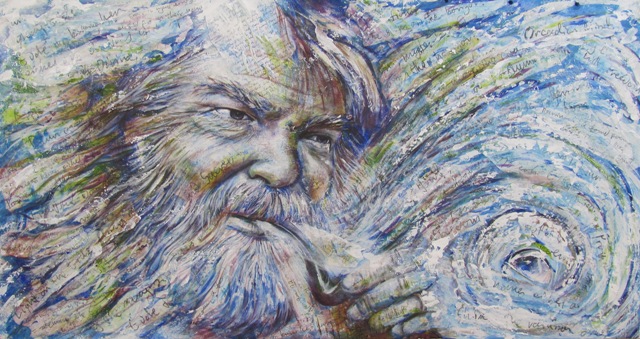 48″ x 25 1/2″ abstract portrait in multi-media acrylic on plywood
The third in a trilogy of portrait studies on Malcolm Guite. Malcolm is a lecturer and chaplain at Girton College in Cambridge. He is also a singer, songwriter and prolific writer of books and poetry.
"Saying the Names" is another of Guite's poems used as the theme for this multi-media abstract portrait.
You can read the poem by clicking here…
The painting is also based on an original photo of Guite taken by Lancia E. Smith – with many thanks!
Click here to see Faye's blog on the making of this painting and the series.
Read MB Herald (Aug. 2012 issue) article about the collaboration of this series of paintings, click here.
Posted on Sunday, June 3rd, 2012 at 11:39 am. Filed under: Uncategorized Tags: abstract portrait, Faye Hall, Malcolm Guite, poem, Saying the Names, sonnet RSS 2.0 feed.
Leave a Reply